loading...
Check Breakfast Recipes How to Cook Fluffy Yoghurt Pancakes Fluffy Yoghurt Pancakes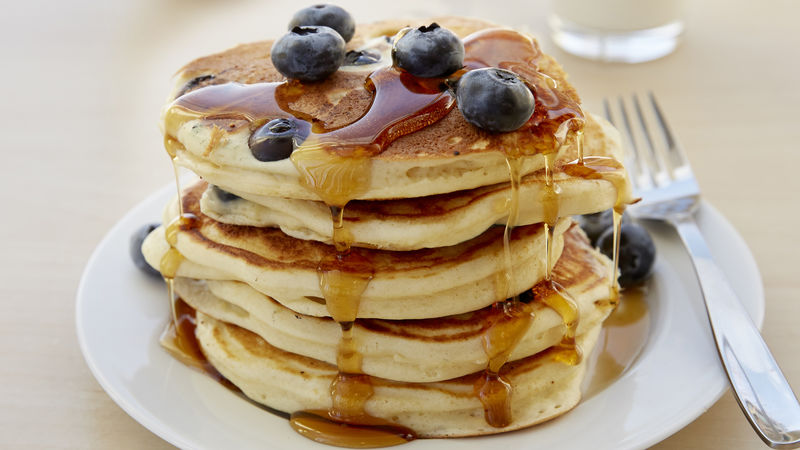 Fluffy Yoghurt Pancakes
Prep Time

25

MIN

Total Time

25

MIN

Servings

7
Yoghurt makes these fluffy pancakes extra tender and flavorful. Make a batch on the weekend, and freeze for on-the-go breakfasts!
Ingredients
2

cups all-purpose flour
3

tablespoons sugar
2

teaspoons baking powder
1

teaspoon baking soda
1/4

teaspoon salt
2

eggs, slightly beaten
1

cup Mountain High™ whole milk plain yoghurt
1 1/4

cups lowfat (1%) milk
1

cup fresh blueberries, if desired



Directions
1

Grease or spray griddle or skillet. Heat over medium-high heat (375°F). In large bowl, mix flour, sugar, baking powder, baking soda and salt with whisk. In small bowl, beat eggs, yoghurt and milk with whisk. Stir yoghurt mixture into flour mixture until no lumps remain in batter.

2

Ladle or spoon 1/4-cupfuls of batter onto griddle. Sprinkle blueberries on top (about 1 tablespoon per pancake). Cook 2 to 3 minutes or until edges are dry and bubbles form on top; turn, and cook 2 to 3 minutes or until golden brown. Transfer to serving plate. Repeat with remaining batter.
Expert Tips

–
To freeze: Arrange fully cooled pancakes in single layer on cookie sheet. Freeze 4 hours or overnight. Transfer to resealable food-storage plastic bag, and freeze up to 2 months. To serve, place frozen pancakes on microwavable plate; microwave uncovered on High 50 seconds to 1 minute or until heated through.
Swap lowfat plain yoghurt for the whole milk plain yoghurt, if desired.
Do comment if you Like this post and must Share with your Friends. We Provide best entertaining Data for you. Do appreciate us with your Valuable Comment
;