loading...
Check Breakfast Recipes How to Cook Spicy Cornmeal Waffles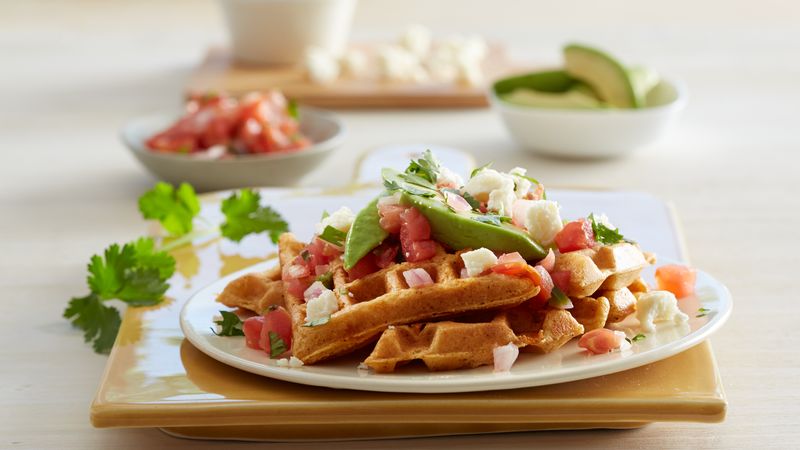 Spicy Cornmeal Waffles
Prep Time

25

MIN

Total Time

35

MIN

Servings

6
These waffles have a hint of cornmeal and spicy heat, which make them a perfect base for a pico de gallo and avocado topping.
Ingredients
2

cups Bisquick™ Original pancake and baking mix
1/4

cup yellow cornmeal
1 1/2

cups buttermilk
2

tablespoons vegetable oil
1

egg
2

teaspoons chili powder
1

teaspoon ground cumin
3/4

cup shredded Cheddar cheese (3 oz)
Toppings
1 1/2

cups pico de gallo or salsa
1

avocado, sliced
1/2

cup chopped fresh cilantro
1/2

cup queso fresco



Directions
1

Heat waffle maker; lightly brush with vegetable oil, if necessary. In medium bowl, stir Bisquick™ mix, cornmeal, buttermilk, oil, egg, chili powder and cumin until blended. Stir in shredded cheese. Let stand 10 minutes, allowing cornmeal to soften.

2

Pour about 1/2 cup batter onto center of hot waffle maker; spread batter to 1/2 inch from edge. (Waffle makers vary in size; check manufacturer's directions for recommended amount of batter.) Close lid of waffle maker. Bake according to manufacturer's directions or until steaming stops and waffle is golden brown; carefully remove waffle. Repeat with remaining batter.

3

Top each waffle with 1/4 cup pico de gallo, 3 slices avocado, 1 heaping tablespoon cilantro and 1 heaping tablespoon queso fresco. Serve warm.
Expert Tips

–
Keep waffles warm in a 200°F oven on a cooking parchment paper-lined cookie sheet until you've finished making the entire batch.
Add Sriracha sauce to increase the spicy heat.
Do comment if you Like this post and must Share with your Friends. We Provide best entertaining Data for you. Do appreciate us with your Valuable Comment
;