loading...
How to Cook Vegan Chocolate Chip Cookies - Vegan Easy Recipes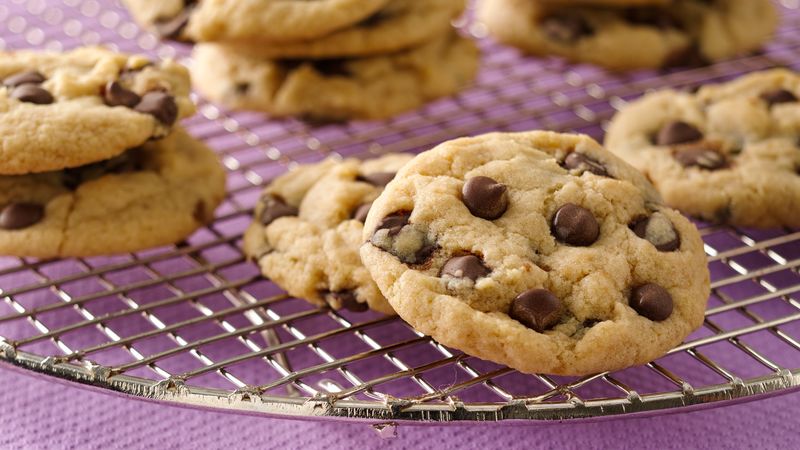 Vegan Chocolate Chip Cookies
Prep Time

45

MIN

Total Time

60

MIN

Servings

40
It will be hard to keep your cookie jar full if you fill it with these delicious vegan chocolate chip cookies!
Ingredients
2/3




cup refined coconut oil, melted
2/3




cup vegan granulated sugar
2/3




cup packed vegan brown sugar
1/2




cup unsweetened vanilla almond milk
2




teaspoons vanilla
2 1/2




cups all-purpose flour
1




teaspoon baking soda
1




teaspoon baking powder
1/2




teaspoon salt
1




bag (10 oz) vegan semisweet chocolate chips (1 1/2 cups)
Directions
1

Heat oven to 350°F. In large bowl, mix coconut oil, granulated sugar and brown sugar until well mixed. Stir in almond milk and vanilla.

2

Stir in flour, baking soda, baking powder and salt until dough forms. Stir in chocolate chips. Drop dough by slightly rounded tablespoonfuls 2 inches apart onto ungreased cookie sheets.

3

Bake 11 to 14 minutes or until edges are light brown and tops look set. Cool 1 minute on cookie sheets. Remove to cooling rack; cool completely. Store in tightly covered container.
Expert Tips

–
Cooking Vegan? Always read labels to make sure each recipe ingredient is vegan. If unsure about an ingredient or product, check with the manufacturer.
Organic sugar granule size can differ among manufacturers. Be sure to use a fine crystal granulated sugar for the cookies for the best texture; coarse crystal sugars do not dissolve as easily during baking.
Do comment if you Like this post and must Share with your Friends. We Provide best entertaining Data for you. Do appreciate us with your Valuable Comment
;